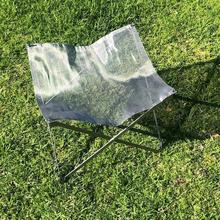 Red Roads Fire - The Riser Spare Mesh
Regular price $25.00 Sale
Spare Mesh for the Red Roads Riser
The Red Roads Riser comes with one piece of Stainless Steel Mesh.
However, if you want to use your Red Roads Riser regularly as a fire place, then you will need to purchase extra mesh.
We get asked how long the mesh will last, but unfortunately that is a bit of a "how long is a piece of string" questions.
Given the primary function of the Red Roads Riser, is exactly that, to raise a Red Roads Blaze-n-BBQ high enough off the ground to avoid scorching, the mesh is secondary, so is made light enough to not be a burden. This means that for little campfires, the mesh will last plenty long enough.
However, should you wish to create a large bonfire, then we cannot say how long the mesh will last...maybe once, twice or a few more uses, before it requires replacement.
If you want to keep your fires in control, well then the original mesh might well last many many years (as ours has) and you may well never need a replacement.
Important - please note that we roll the mesh for postage, which adds to the postage cost. However, we are now also offering a service where we will fold the mesh to fit into a post bag, reducing the shipping cost. However, during shipping, the mesh may get squashed causing a crimp in the mesh. This will not impact the meshes performance, you will just need to flatten it out when you unpack it - the benefit is you will save a few dollars post.
If you are a purchasing a spare mesh at the same time as a Riser or Blaze-n-BBQ, just choose Folded in the description here, and we will roll it or ship flat instead.

Note, the photo shows the complete Red Roads Riser unit - this page is just for the Spare Mesh and not the complete unit.